Observation of Reaction Transient against External Fields in Soft Crystals using X-ray Molecular Movie
Keywords
Molecular Movie, Soft Crystals, Time-Resolved, X-ray Crystallography, X-ray absorption spectroscopy, Photoelectron microscopy
Co-Researcher
Co-Investigator: Keiki Fukumoto (Institute of Materials Structure Science (IMSS), High Energy Accelerator Research Organization (KEK), Assistant Professor)
Collaborator: Shin-ichi Adachi (Institute of Materials Structure Science (IMSS), High Energy Accelerator Research Organization (KEK), director)
Collaborator: Shunsuke Nozawa (Institute of Materials Structure Science (IMSS), High Energy Accelerator Research Organization (KEK), Associate Professor)
Collaborator: Kouhei Ichiyanagi (Institute of Materials Structure Science (IMSS), High Energy Accelerator Research Organization (KEK), Researcher)
Collaborator: Ryo Fukaya (Institute of Materials Structure Science (IMSS), High Energy Accelerator Research Organization (KEK), Assistant Professor)
Collaborator: Yasufumi Umena (Synchrotron radiation Research center, Nagoya University, Associate Professor)
Research Outline
Novel functional-materials, "Soft crystals," produces a phase transition or luminescence-property change by weak external-fields, which are photo irradiation, vapor exposure, mechanical pushing, and others. We explore a time-resolved structural-change in an atomic level or electronic state during phase transition in soft crystals using 'X-ray molecular movie' to understand mechanisms of the functions. A pump-probe experiment is executed with LASER pumping to generate intermediate states of photo excitation, pressure impress, thermal jump, and so on. X-ray free electron laser (XFEL) and pulsed synchrotron-radiation are used for a probing in a range of time scale from femtosecond to minute. We advance an appropriate system for each soft crystal, i.e., multi-probing which are X-ray crystallography, X-ray absorption spectroscopy, X-ray scattering and photoelectron microscopy.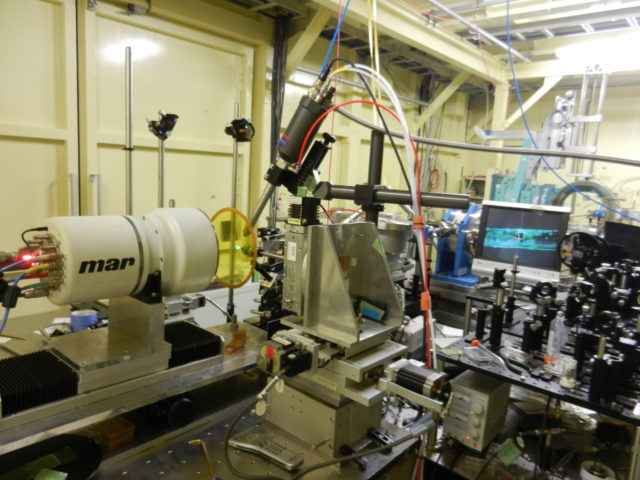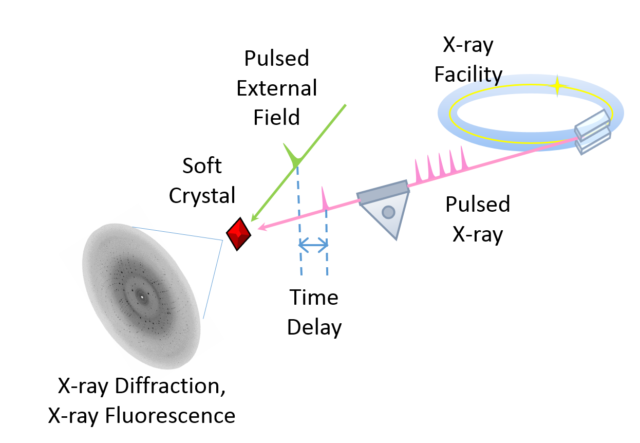 Representative Achievements
Publications
Academic papers/reviewed
"Mapping the emergence of molecular vibrations mediating bond formation" J. G. Kim, S. Nozawa, H. Kim, E. H. Choi, T. Sato, T. W. Kim, K. H. Kim, H. Ki, J. Kim, M. Choi, Y. Lee, J. Heo, K. Y. Oang, K. Ichiyanagi, R. Fukaya, J. H. Lee, J. Park, I. Eom, S. H. Chun, S. Kim, M. Kim, T. Katayama, T. Togashi, S. Owada, M. Yabashi, S. J. Lee, S. Lee, C. W. Ahn, D.-S. Ahn, J. Moon, S. Choi, J. Kim, T. Joo, J. Kim, S. Adachi, *H. Ihee, Nature, 582, 520-524 (2020).

"Direct observation of ligand migration within human hemoglobin at work" *N. Shibayama, A. Sato-Tomita, M. Ohki, K. Ichiyanagi, S.-Y. Park, Proc. Nat. Acad. Sci., 117, 4741-4748 (2020).

"Development of shock-dynamics study with synchrotron-based time-resolved X-ray diffraction using an Nd:glass laser system" S. Takagi, *K. Ichiyanagi, A. Kyono, S. Nozawa, N. Kawai, R. Fukaya, N. Funamori, S. Adachi, J. Synchrotron. Rad., 27, 371-377 (2020).

"X-ray fluorescence holography for soft matter" A. K. R. Ang, A. Sato-Tomita, N. Shibayama, Y. Umena, N. Happo, R. Marumi, K. Kimura, T. Matsushita, K. Akagi, T. Sasaki, Y. C. Sasaki, *K. Hayashi, JJAP, 59 (2020) 010505.

"Exergonic Intramolecular Singlet Fission of an Adamantanelinked Tetracene Dyad via Twin Quintet Multiexcitons" Y. Matsui, S. Kawaoka, H. Nagashima, T. Nakagawa, N. Okamura, T. Ogaki, E. Ohta, S. Akimoto, A. Sato-Tomita, S. Yagi, *H. Ikeda, J. Phys. Chem. C, 123, 18813-18823 (2019). (領域内共同研究池田)

"Microstructural deformation process of shockcompressed polycrystalline aluminum" *K. Ichiyanagi, S. Takagi, N. Kawai, R. Fukaya, S. Nozawa, K. G. Nakamura, K-D. Liss, M. Kimura, S. Adachi, Sci. Reports, 9, 7604 (2019).

"Size and Shape Controlled Crystallization of Hemoglobin for Advanced Crystallography" A. Sato-tomita, *N. Shibayama,

Crystals

, 7, 282 (2017).
International conferences
"Visualizing Chemical Reactions in Solution with Femtosecond X-ray Scattering" S. Adachi, The International Chemical Congress of Pacific Basin Societies 2021 (Pacifichem2021) (Remote, Dec. 16-21, 2021)

"Observation of a structural transition induced by external-field in the softcrystals using synchrotron radiation" A. Sato-Tomita, The 3rd International Symposium on Soft Crystals (the 3rd ISSC) joint with the 4th International Symposium on Photofunctional Chemistry of Complex Systems (ISPCCS 2021) (Hawaii, United States, Dec. 12-15, 2021)

"Thermal Reaction-Induced Phenomena in Soft Crystals Found with 1,2-Dioxetane Chemiluminescence" C. Matsuhashi, H. Ohyama, H. Uekusa, H. Fujisawa, M. Ryu, J. Morikawa, A. Sato-Tomita, K. Ichiyanagi, T. Hirano, The 3rd International Symposium on Soft Crystals (the 3rd ISSC) joint with the 4th International Symposium on Photofunctional Chemistry of Complex Systems (ISPCCS 2021) (Hawaii, United States, Dec. 12-15, 2021)

"Molecular Structural Dynamics Probed by Femtosecond X-ray Solution Scattering" S. Adachi, Ultrafast Dynamic Imaging of Matter 2021 (UFDIM2022) (Live-streaming from Potsdam, Germany, Sep. 5-9, 2021)

"Development of picosecond time-resolved X-ray crystallography for observing the photo-induced structural change of softcrsytals" K. Ichiyanagi, M. Hikita, N. Matsugaki, S. Takagi, R. Fukaya, R. Haruki, S. Nozawa, T. Mutai, A. Sato-Tomita, Cooperative phenomena in framework materials: Faraday Discussion (Online, UK, October 16-18, 2020)

"Fast and Stable Vapochromic Response Induced Through Nanocrystal Formation of a Luminescent Platinum(II) Complex on Periodic Mesoporous Organosilica" M. Yoshida, H. Matsukawa, T Tsunenari, S. Nozawa, A. Sato-Tomita, Y. Maegawa, S. Inagaki, A. Kobayashi, M. Kato, Cooperative phenomena in framework materials: Faraday Discussion (Online, UK, October 16-18, 2020)

"Isomeric difference in the crystalline-state chemiluminescence properties of 1,2-dioxetanes with a phthahlimide chromophore" C. Matsuhashi, T. Ueno, H. Uekusa, A. Sato-Tomita, K. Ichiyanagi, J. Morikawa, M. Ryu, S. Maki, T. Hirano, Cooperative phenomena in framework materials: Faraday Discussion (Online, UK, October 16-18, 2020)

"Observation of photoinduced phase transition of organic conductor(EDO-TTF)2PF6 by time-resolved photoelectron microscopy" K. Fukumoto, T. Tanaka, K. Miyata, K. Onda, S. Koshihara, Cooperative phenomena in framework materials: Faraday Discussion (Online, UK, October 16-18, 2020)

"Electron dynamics in organic heterostructures" K. Fukumoto, CEMS topical meeting (Online, Oct. 29, 2020)

"Capturing a protein reaction triggered by laser photolysis in crystals", Sato-Tomita A, the AsCA 2018/CRYSTAL 32, 基調講演, Auckland, New Zealand, December 2-5, 2018.

"Imaging photogenerated electron dynamics in zero-gap to wide-gap semiconductors", Fukumoto K, Ultrafast Control of Materials 2018, Renne, Freance, June 11-14, 2018.

"Site-Selecitve X-ray Fluorescence Holography using a Hybrid 2D X-ray Detector", Ang AKR, Matsushita T, Happo N, Mizuguchi M, Sato-Tomita A, Shibayama N, Umena Y, Sasaki YC, Kimura K, Daimon H, Hayashi K, ACSIN14&ICSPM26, Sendai, Japan, October 21-25 2018.

"Sub-MHz hard X-ray pump-probe (XPP) experiment at KEK PF-AR", Adachi S, ACS Fall Meeting, 招待講演, Boston, United States, August 19-23, 2018.

"The Elastic-plastic deformation process of shock copressed silicon using time-resolved laue diffraction", Ichiyanagi K, Conference on Laser and Synchrotron Radiation Combination Experiment 2018, 招待講演, Yokohama, Japan, April 23-27, 2018.

"Application of X-ray fluorescence imaging to protein crystals" A. Sato-Tomita, N. Shibayama, N. Happo, T. Matsushita, K. Hayashi, Y. C. Sasaki, Atomic Level Characterization (ALC) 2017 (Hawaii, USA, Dec. 3-8, 2017)

"Capturing metal active-site in myoglobin and hemoglobin by X-ray fluorescence holography"
A. Sato-Tomita, N. Shibayama, N. Happo, T. Matsushita, K. Hayashi, Y. C. Sasaki, Swedish-Japanese Workshop on Nano-Structure Science by Novel Light Sources (Lund, Sweden, Oct.2-3, 2017)

"Direct observation of a ligand-migration pathway in heme proteins" A. Sato-Tomita (Invited), Japan-China Young Women Scientists Symposium (Beijing, China, Nov. 3-4, 2017)

"Imaging of carrier dynamics by time-resolved PEEM" K. Fukumoto (Invited), 7th FOCUS PEEM Workshop, (Hyun step Ten, Germany, Jun. 21-23, 2017)

"Imaging of photogenerated electron dynamics on a semiconductor surface" K. Fukumoto, The 5th Advanced Electromagnetics Symposium (Seoul, Korea, Jul. 26-28, 2017)

"Simulations of X-ray fluorescence holograms of Photosystem II (PSII)" A. K. R. Ang, A. Sato-Tomita, N. Shibayama, Y. Umena, Y. Yamamoto, Y. C. Sasaki, N. Happo, K. Kimura, K. Hayashi, Swedish-Japanese Workshop on Nano-Structure Science by Novel Light Sources (Lund, Sweden, Oct.2-3, 2017)
---
Related Website(s)
Contact
ayana.sato[at]jichi.ac.jp